2021 LOBSTERLESS LOBSTERFEST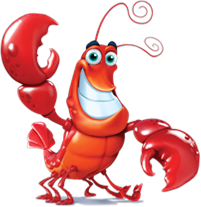 Our major fundraiser in recent years has been our Lobsterfest. This year due to the pandemic, we have had to cancel this event. Instead we are reaching out to members and past sponsors to support our many community and international service projects through direct donations.
Though our Club has not been able to meet in person for a year now, we continue with our charitable giving and projects. For example, through our JUST READ Project we distributed over 5000 books to 1200 primary grade students in the Upland School District, including those in Head Start, provided 100 low income students with a HOLIDAY SHOPPING SPREE at Target, boxed 130 CHRISTMAS EVE MEALS to San Antonio Regional Hospital COVID-19 front line staff, and donated to many charities including FOOTHILL FAMILY SHELTER, the HOUSE OF RUTH, the ALZHEIMER'S FOUNDATION, the PEANUT BUTTER PROJECT in Sierra Leone.
While we will not be dining on a fresh Maine lobster, SPONSORSHIP OPPORTUNITIES are available as follows (all levels will be honored on our Website, Facebook page and at our meetings through July 2021.)
COPPER $250
BRONZE $500
SILVER $1,000
GOLD $2,500
PLATINUM $5,000 or more
We hope we can count on your support to help further our humanitarian endeavors both here in our community and globally. When conditions warrant, we look forward to your return to our Lobsterfest in the near future.
For your direct donation, please make your check payable to:
"UPLAND ROTARY CLUB FOUNDATION"
Include a contact name and phone number and indicate "LobsterFest" in the memo line. Mail your information and check by June 1, 2021 to:
The Rotary Club of Upland
PO Box 701
Upland, CA 91785
Thank you for your committed and generous support of our community.
Jeff LeBlanc, President
[The Foundation of the Rotary Club of Upland is a 501 (c) 3 tax exempt organization (Tax ID # 33-0947113.)]